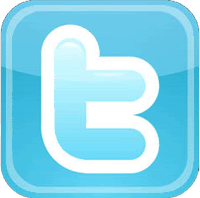 ---
Of Hoisting a Cold One to Arthur...
Sunday, September 27, 2009
As evening approached, the cars around the Sunway-Subang area started to pile up. I had arrived (and parked) earlier, to catch a quick drink with Siok Kin and her sis, before the show started.

Yes, it was

Arthur's Day

, a celebration of the 250th anniversary of the Guiness Brewing Company, and musical celebrations were to take place in 5 different cities, Dublin, Lagos, New York, Yaoundé, and yes, Kuala Lumpur. Attendees of the event were expected to raise their glasses in memory of Arthur Guiness, founder of the Guiness brewery business (and of course, to revel in a wild night of music and partying). The main attraction of the night was The Black Eyed Peas, with an assortment of local acts thrown into the picture.
Sometimes, the spelling of Arthur can be quite confusing. (Please refer to
Li Ping's blog
for further details).
Initially, due to the hype, I actually

bought

a ticket. Barely 24 hours later, while I was online and chatting with Julie, she offered me a free one. So saying, I invited Li Ping along, and lo and behold! she agreed to come and see what the whole thing was all about.
Since I arrived early, I met up with Siok Kin and sis first, who had also come earlier to redeem some free tickets. As it turns out, she also had spares, so, lo and behold! Yenli also decided to come for the event. Since Yen had to work late, Kenny (who also appeared with spare tickets) Han Yang (who was wandering around) and I waited outside the main entrance for the ladies.


The Entrance to Lots of Guiness Draft.
We didn't follow the Black Chic dress code exactly. As Han Yang was saying, black chic isn't really just about wearing black.
It was a long walk to the surf beach, and we did a lot of chit-chatting along the way. When we arrived at the main area, it was so packed, that we couldn't push and elbow our way through, so we just decided to sit on the tiled area near the back. (Side Story: Li Ping was insisting that the entire beach would be drained of sand, and would be tiled. I thought it would be all sand. We were both right, since it was half-tiled, half-sand)


Question of the night:
Yenli: Is Arthur still alive?
Pretty difficult, since he was born in 1725.
Artistic use of lights.
Kenny uses his height to good advantage.
Li Ping, triumphantly points out the tiles. =)
She likes making kissy lips.
The place was so packed, it was incredibly difficult to meet up with anyone. Practically the whole of Selangor and the surrounding states were there, but we didn't bump into as many familiar faces as we'd thought we would.


Joanna Lim! Recently seen at church camp.
Michelle Ding, also recently seen at church camp. I wonder what I was looking at.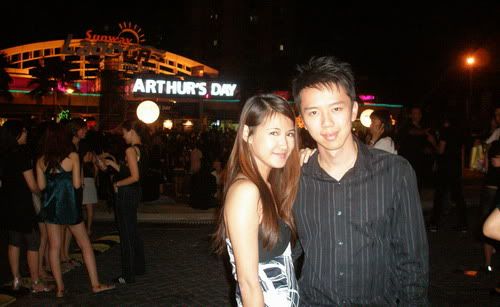 Sue Ann and Keat! (photo stolen from Sue)
Jessica
(who was wandering about near the stage taking pics, and only managed to join in the fun later)
I went without my Canon, as I thought it'd be confiscated at the door, and as a result, had to rely on the point and shoot that I could fit into a pocket. The initial part of the concert consisted of performances by Reshmonu, Joe Flizzow, and the Taiwanese rap artist, MC Hotdog (apparently, quite famous, not to be confused with a new product by the McDonald's chain of fast-food outlets).


Blur photos of the stage.
The crowd, of course, grew happier when The Black Eyed Peas made their appearance, with some of their older hits (i.e. Don't Phunk with My Heart, etc). I believe one of the more memorable moments would be when Will.I.Am started spinning the music, and turned the surf beach into an open air Zouk (although a whole lot more packed, and more sweaty bodies involved). We were practically squashed between this dude who boom boom powed his way into our space, and kept stepping on shoes. Jessica joined us for a bit, before moving on to the Silver Zone.
The night ended with the much-anticipated 'I've Got A Feeling', with everyone feeling like it was going to be a good night, a good good night. Once the music ended, everyone did a quick turn-about, and started marching towards the exit.


We practically had to fight our way through to get to the escalators. A few thousand people leaving at the same time makes it so much more difficult to walk normally.
Still got energy to model.
Apparently this is a star.
All in all, an incredibly fun night with much laughter and jumping about. Ironically, we didn't get any drinks, since the queue was like incredibly long. Still, we did manage to shout 'To Arthur!', before we went home to sleep. Credits go to;
Julie
! for the first ticket. =) Thanks ya, I still owe you dinner.
..
Siok Kin! for the next round of tickets
...
...and Li Ping, for agreeing to come and get squashed in the middle of 15, 000 people =). (visit
her blog
for more photos!)
Were

you

there to hoist a cold one to Arthur as well?

Posted at 10:05 pm by IsaacCheah
Jackson Pang


December 16, 2014 12:17 PM PST



Dear Manager

Do you need:Machine Skates,Air Skates,which are used to move heavy equipment?

All the products are of LONGSHENG brand,Compared with the other brands made in China,our quality is better,which is our key of development.

If you wonder more details,please go to our website and find the model you prefer !

Thank you and best regards !

Jackson Pang


Yantai Longhai Hoisting Equipment Co Ltd
Address: No. 8, Tianshan Road, Yantai ETDZ, Shandong, China
Zip Code: 264006
Tel: 86-535-6106703
Fax: 86-535-6106704
Email: sales@longhaihoist.com
MSN: ytlonghai@hotmail.com
Skype: elainetang6
Website: www.longhaihoist.com

soon seng


October 6, 2009 10:02 PM PDT



julie: I certainly did! haha.. thanks ya.. =)

gah. i'm equally bad at spelling.
Julie


October 3, 2009 09:17 PM PDT



Soon Seng!! Glad you enjoyed it!! :)

PS: Guinness is spelt with double N ! haha
soon seng


September 30, 2009 11:29 PM PDT



liping: nolerrrr.. its not making fun lerrr.. =) its being happy seeing you! you bring much joy and fun.. (genuine, no sarcasm here)
barbiesoo


September 30, 2009 06:47 PM PDT



mestilah.. a bit sensitive since u keep making fun of me =p
soon seng


September 28, 2009 10:55 PM PDT



liping: it was a good star. and don't worry about the sand, anyone would miss it. Not much sand oso. *grin*

I was wondering if anyone noticed.. kudos! haha.. =) you're dem observant.
barbiesoo


September 28, 2009 10:00 PM PDT



WTH i just realised u changed the banner hahahaha!
barbiesoo


September 28, 2009 09:57 PM PDT



LOL @ the star!

and i totally forgot that the tiled area was surrounded by sand lar haiyo...
---